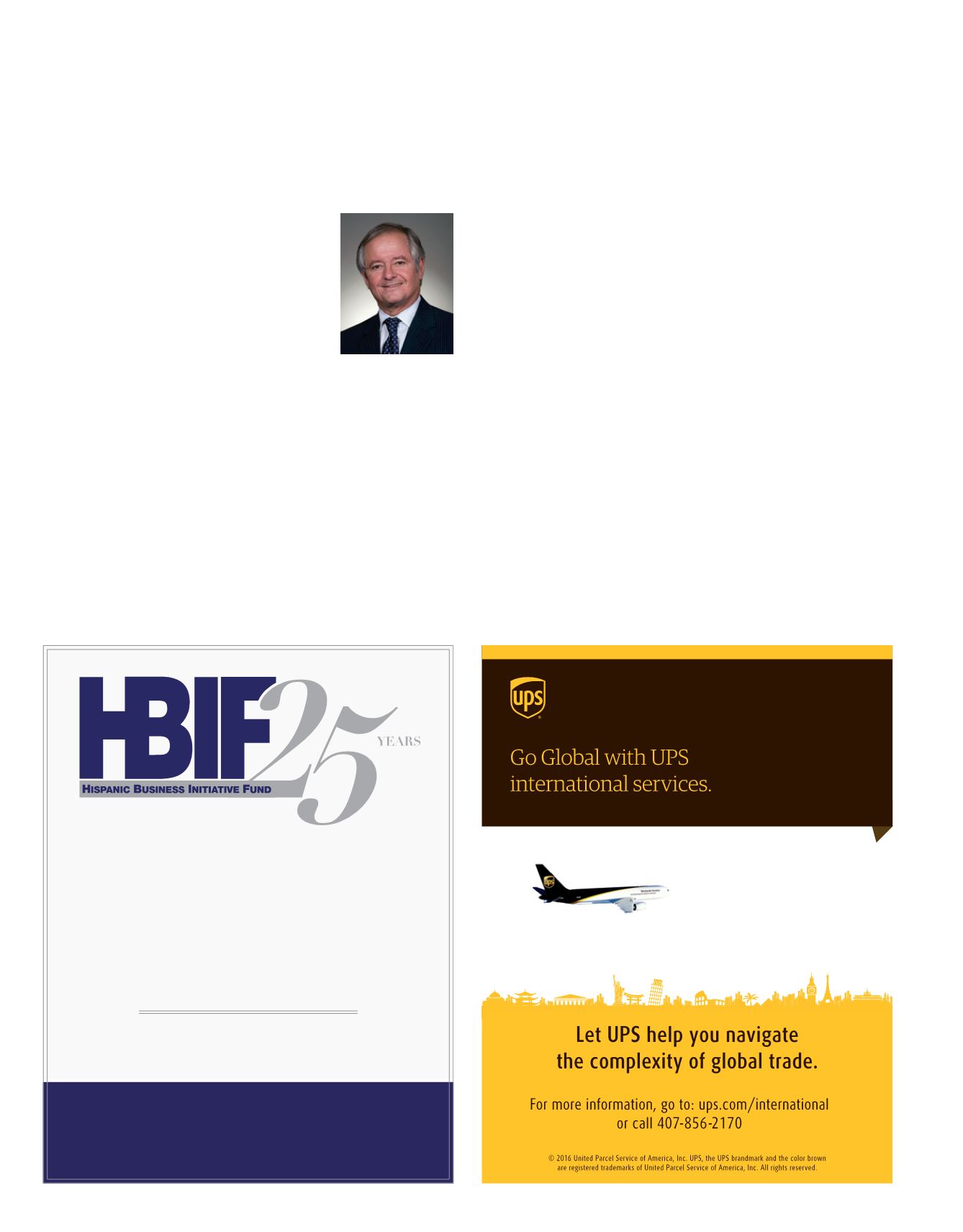 5
Florida.Think.Global
2016 Florida Export Guide
• Individual consulting
& technical assistance
• Entrepreneurial grants*
• Business seminars in Spanish
• Access to loans
* The Export Assistance Grant helps Hispanic-owned businesses
in the Orlando, Miami and Tampa metro areas assess their
readiness and develop an initial plan to begin exporting.
All services are bilingual, and free to clients
thanks to contributions from private and public
stakeholders across the state.
HELPING HISPANIC ENTREPRENEURS
E S TA B L I S H O R E X P A N D T H E I R B U S I N E S S E S I N F L O R I D A
1-888-776-7737 •
www.HBIFFlorida.org
E
nterprise Florida is one of
America's leading trade, export
development, and foreign direct
investment organizations. In terms
of export promotion, Enterprise Florida has
helped fuel the state's trade growth.
Since 1996, Florida exports have more
than doubled, growing from $20.7 billion
to nearly $54 billion in 2015. Among
Florida's key export industries are aerospace, information
technology, life sciences and cleantech.
As North America's principal commercial gateway to Latin
American, billions of dollars in goods flowed through Florida's
airports and seaports in 2015. Florida is the sixth largest export-
ing state in the U.S., and a leading international business hub.
The state's unique combination of strategic geographic
location, state-of-the-art infrastructure, multilingual work-
force, and concentration of corporate and financial resources
creates a solid foundation for global
trade.To
ensure that
goods get where they need to go, Florida is home to world-
class deepwater seaports — including the only Post-Panamax
seaport south of Virginia — and a statewide network of
commercial service airports. According to the U.S. Census
Bureau, Florida has more than 61,000 exporting companies
— second only to California.
About 20 percent of American companies that export are
located in Florida. Florida also is a leading exporter of ser-
vices, including high value-added services. Examples include
accounting, communications, consulting, engineering, finan-
cial, legal, medical, transportation, and many other services.
When it comes to export promotion and international
trade development, international business is a cornerstone of
Florida's economy. Florida also is a leader in attracting foreign
direct investment, ranking sixth among all U.S. states in
employment by majority foreign-owned firms. Foreign-owned
companies employ more than 260,000 workers in the state.
For companies interested in relocating to Florida and/or in
using the state as a springboard for exporting, the best place
to start is on the Enterprise Florida website. Visit Enterprise
Florida at
www.enterpriseflorida.com/international.
Manny Mencia is senior vice president for international trade
and development at Enterprise Florida.
Enterprise Florida:
A Network of Exporting Infrastructure
By Manny Mencia
Manny Mencia