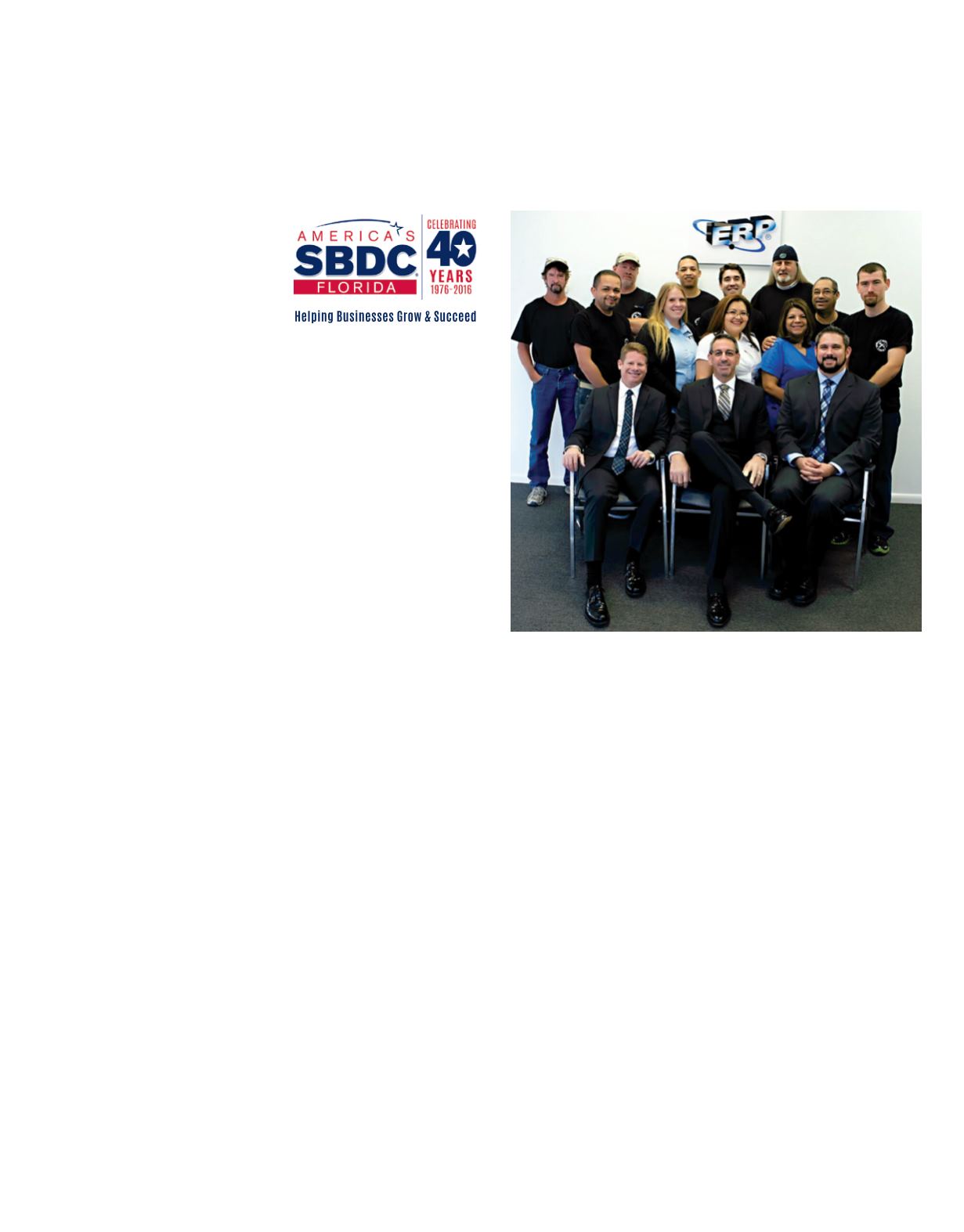 8
2016 Florida Export Guide
Florida.Think.Global
A
ccording to the U.S.
International Trade
Administration,
95 percent of the
world's consumers live outside
the United States.With today's
advances in communication,
travel, and technology, the Florida SBDC (FSBDC) can access
information and markets to connect your company to oppor-
tunities worldwide.
Exporting Assistance
The FSBDC Network is a leading source of export assis-
tance for small businesses throughout the state. Celebrating its
40th anniversary in 2016, the FSBDC employs professionally
certified business consultants who provide tens of thousands of
businesses with expertise and guidance each year.
Through the network's International Trade Service program,
businesses that are new-to-export or looking to grow through
exports receive training and consulting that exposes them to
profitable management practices and international marketing
techniques.Working in partnership with Enterprise Florida
and the U.S. Commercial Service, international trade special-
ists at the FSBDC prepare Export Marketing Plans (EMPs)
for qualifying Florida-based manufacturers and service
providers. Specialists spend approximately 100 hours on each
EMP, creating a customized report with target market recom-
mendations, overseas trade opportunities, and an action plan
for market entry.
Endoscopy Replacement Parts and Santa Monica Florida are
two examples of the more than 61,000 exporters in the state.
Since receiving their EMP, Florida manufacturer Endoscopy
Replacement Parts Inc. targeted its international expansion to
countries in Southeast Asia. As a result of the company's export
success, they were named the National Exporter of the Year by
the U.S. Small Business Administration in 2016.
Another SBDC success story is Santa Monica Florida,
a Pasco County-based producer of organic honey. As a
result of an EMP, the company discovered South Korea and
Canada to be high priority target markets.
While exporting takes a considerable amount of trade plan-
ning and commitment, it can be very profitable. Businesses
that export grow 15 percent faster than non-exporters, and
generally pay 15 percent higher wages.
Cost
The cost for the EMP is $4,000. Qualifying businesses are
eligible for a $3,500 grant provided by Enterprise Florida and
the FSBDC Network, in partnership with the U.S. Commer-
cial Service, reducing the company's actual cost to $500.
Qualifications
Florida-based manufacturers and service providers are
eligible for the EMP
service.To
qualify, products must be
made in Florida and contain at least 51 percent U.S. content.
New-to-export or infrequent exporters are preferred. Quali-
fying companies must be in business for a minimum of two
years, have five or more full-time employees, and be finan-
cially ready to export, generally with $500,000 to $10 million
in annual sales.
Foreign Direct Investment
In addition to export assistance, the FSBDC Network also
assists foreign companies looking to operate within the state
of Florida. International trade specialists are available to
discuss the benefits of opening a separate U.S. entity within
the state.They advise business owners on requirements, and
discuss business planning issues such as immigration and
intellectual property protection.
Getting Started
The Florida SBDC Network and its partners have a variety
of resources that can help companies succeed in the global
marketplace.
Michael W. Myhre is CEO of the FSBDC Network. For more
information, please visi
t www.FloridaSBDC.org/export
Florida SBDC Network Helps Companies
Find Export Success Worldwide
By Michael W. Myhre
Seated: John Hartnett, vice president of Global Business Development (left), David Peter Bello Sr.,
CEO (center), and David A. Bello Jr., general manager (right), and team of Endoscopy Replacement
Parts — named the 2016 National Exporter of the Year by the U.S. SBA.