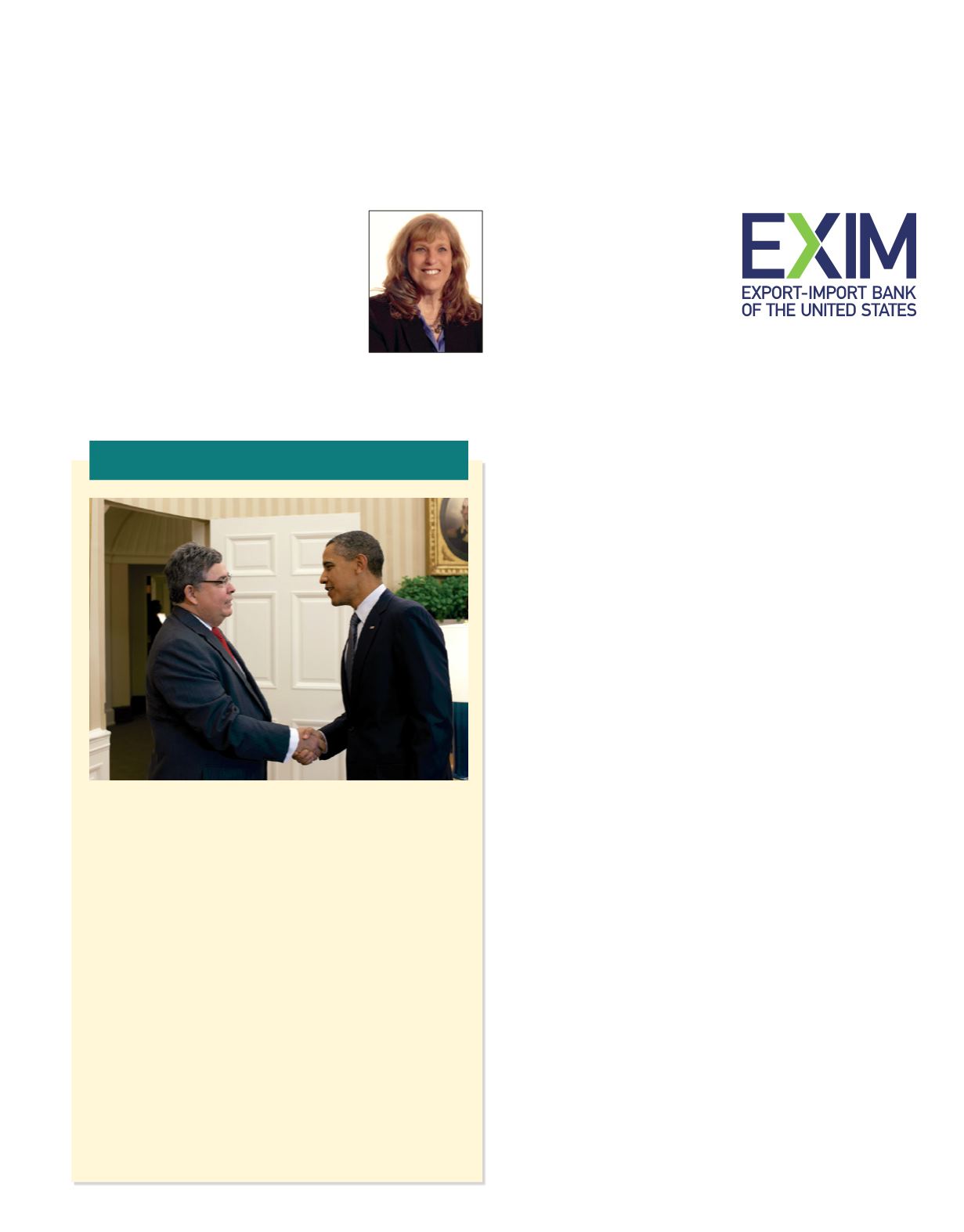 14
2016 Florida Export Guide
Florida.Think.Global
D
id you know that the U.S.
government has a one-stop
shop to help your export
business? It's called the
USEAC — U.S. Export Assistance Center.
Located nationwide, USEACs are com-
prised of the three premier federal agencies
that can help you with your export business:
The U.S. Department of Commerce (DOC),
the Small Business Administration (SBA) and the Export-
Import Bank of the U.S. (EXIM Bank).
• The DOC can help you
locate new international
markets to sell your prod-
ucts and identify key buyers
in your existing or new
markets.The DOC's Gold
Key matching service
actually takes you overseas to meet face-to-face with
potential distributors and buyers.
• The SBA offers guarantees to your lender that makes loans
to you for your export-related needs.Their loan guarantees
support purchase order financing as well as the purchase of
fixed assets to manufacture your export products.The SBA's
Export Express product allows you the flexibility of using
the funds for any export development activity you need.
• EXIM Bank provides you with the financial tools you
need to help you grow your export business while mini-
mizing your risks. Many companies use EXIM Bank's
Export Credit Insurance policies not only as protection
against buyer non-payment but also as a marketing tool
to extend open account terms to attract new customers
and increase sales to existing ones. Insuring your foreign
receivables also allows you to use them as eligible collateral
with your lender.
EXIM Bank also offers Working Capital Guarantees to your
lender, which provide a loan for your export financing needs.
These may include purchasing a finished U.S. product for ex-
port, the raw materials used in manufacturing your product or
opening a standby Letter of Credit needed as a performance
bond. EXIM Bank provides foreign buyer financing too. Your
sales of capital equipment can be supported with credit insur-
ance allowing you to assign the receivable to a U.S. lender who
will cash you out soon after your product ships.
Did you know that EXIM Bank supports service exports
as well as product exports? If you are a service provider, such
as an accounting firm, an engineering firm, an architectural
firm, or a freight forwarder which invoices your foreign buyers
directly, EXIM can help you.
Contact Sharyn Koenig, Managing Director, eastern region,
for EXIM Bank at
grow.exim.gov/Koenig o
r by calling
305-526-7436, extension 17.
USEACs: A One-Stop Shop for U.S. Small
Business Exporters
By Sharyn Koenig
"We have expanded our distribution to
over 80 countries, thanks in large part
to EXIMBank's multi-buyer insurance"
—Luis Arguello Sr., DemeTech Corp.
Sharyn Koenig
D
emeTech Corp., a
Miami-based ex-
porter of surgical
sutures and blades,
has worked with the EXIM
Bank to help the company
expand into South America,
Asia, the Middle East, and
Europe.
In particular, DemeTech
has used a multi-buyer
policy from EXIM to help
support its export sales. The
company, which employs
100 people, also uses the
Small Business Administra-
tion's (SBA) Export Working
Capital Program and trade
matchmaking services from
the U.S. Dept. of Commerce.
"We have expanded our
distribution to over 80
countries, thanks in large
part to EXIM Bank's multi-
buyer insurance," says Luis
Arguello, Sr., president of
Demetech. "The ability to
extend credit to buyers has
been a key to our astro-
nomical export growth."
DemeTech Corp. Leverages
EXIM Bank to Go Global
Luis Arguello Sr., left, with President Barack Obama.
F L O R I D A S U C C E S S S T O R I E S