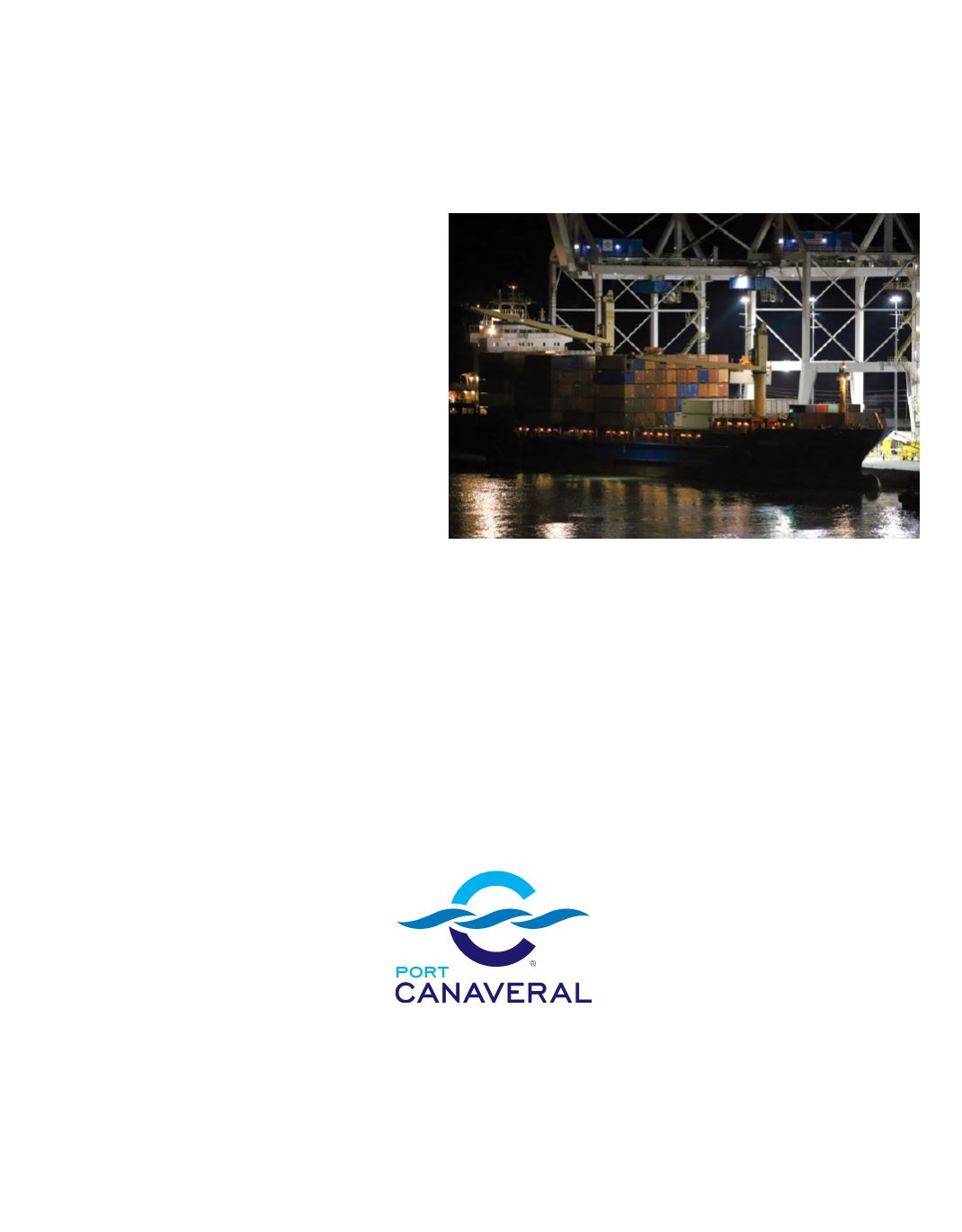 18
2016 Florida Export Guide
Florida.Think.Global
P
ort Canaveral is the exclusive U.S. stop for
the Blue Stream service, which sails from
Florida directly to Rotterdam, Netherlands,
with calls in the United Kingdom and
France before re-crossing the Atlantic to the French
West Indies and Central America, and then back to
ort Canaveral.
The January 2016 arrival of container ship M/V
Norderoog at the Canaveral Cargo Terminal, oper-
ated by GT USA, was the first visit of the new Blue
Stream service. Service operator StreamLines N.V. is
a part of the Seatrade Group, which provides month-
ly break-bulk juice service through Port Canaveral.
The Blue Stream service offers one of the fastest
routes from Florida to Europe — just 11 days to Rot-
terdam. It cuts the time to ship goods from Florida
to the United Kingdom nearly in half, taking 12 days
compared to 23 days for the only other direct service
in the market. It also provides quick three-day service
from Central America to Central Florida, a very beneficial
shipping time for the fresh produce and perishables expected
to form a major portion of the imports from this area.
The service operates five ships on rotation, each with
1300 TEU (twenty-foot equivalent unit) capacity, and
250 lower lock reefer plugs.
Serving a Vital Southeast Market
"The new Blue Stream service can showcase Port Canaveral
as an ideal gateway, opening markets in Central America to
Central Florida and providing our local exporters the most effi-
cient route to Europe," says Peter Richards, CEO of GT USA,
which opened the 20-acre Canaveral Cargo Terminal in June
2015, and has been working actively to attract container
business. "This undoubtedly will build Port Canaveral's
reputation as a key U.S. cargo port and lead to more
growth in coming months."
The new trans-Atlantic service is a vital
part of the port's development plans. "We
chose Port Canaveral for this important
project because of our long and success-
ful history with the port, and because of its
strategic and uncongested location in a criti-
cal market," adds Howard Posner, general manager
of Seatrade Group.
Seatrade is marketing its new service for a variety of
imported and exported goods.Tropical fruits and plants are
popular imports from Central America and the Caribbean,
while popular exports to Europe include peanuts, corn,
melons and other agricultural products. "Streamlines has a
history and focus on refrigerated cargoes, but we're happy to
move just about anything," says Posner.
Imported cargo can travel from Port Canaveral to the Orlando
area in less than two hours, faster than from any other container
terminal in the state.The port also is in close proximity to major
supermarket distribution facilities and major distribution centers
along the Interstate 4 corridor.With its centralized location, Port
Canaveral efficiently serves Florida markets as well markets as far
north as Atlanta.
Supporting Local Business
Port Canaveral is located in a market that is growing at
three times the national average. Moreover, Central Florida
receives more than 62 million visitors annually.
"Making this port a vital cargo hub can lower inland
transportation costs and get products to market faster for
many importers and exporters in our region and
state, and that has a significant economic impact,"
says Alberto Cabrera, senior director of cargo
business development at Port Canaveral.
Florida also is a major importer, bringing more
than $153 billion in foreign goods through its
airports and seaports in 2014. Latin America
and the Caribbean, part of the Blue Stream trade
route, account for more than 60 percent of the state's total trade.
Moreover, Florida companies exported $81.7 billion in
goods overseas in 2014. Florida is home to more than one in
five American exporters — more than 61,000 companies —
and roughly one out every seven Florida manufacturing jobs
depend on exports.The United Kingdom is a major market
for Florida exports, surpassing $1 billion in 2015.
Port Canaveral: Sole U.S. Stop on One of the
Fastest Routes Available from Florida to Europe