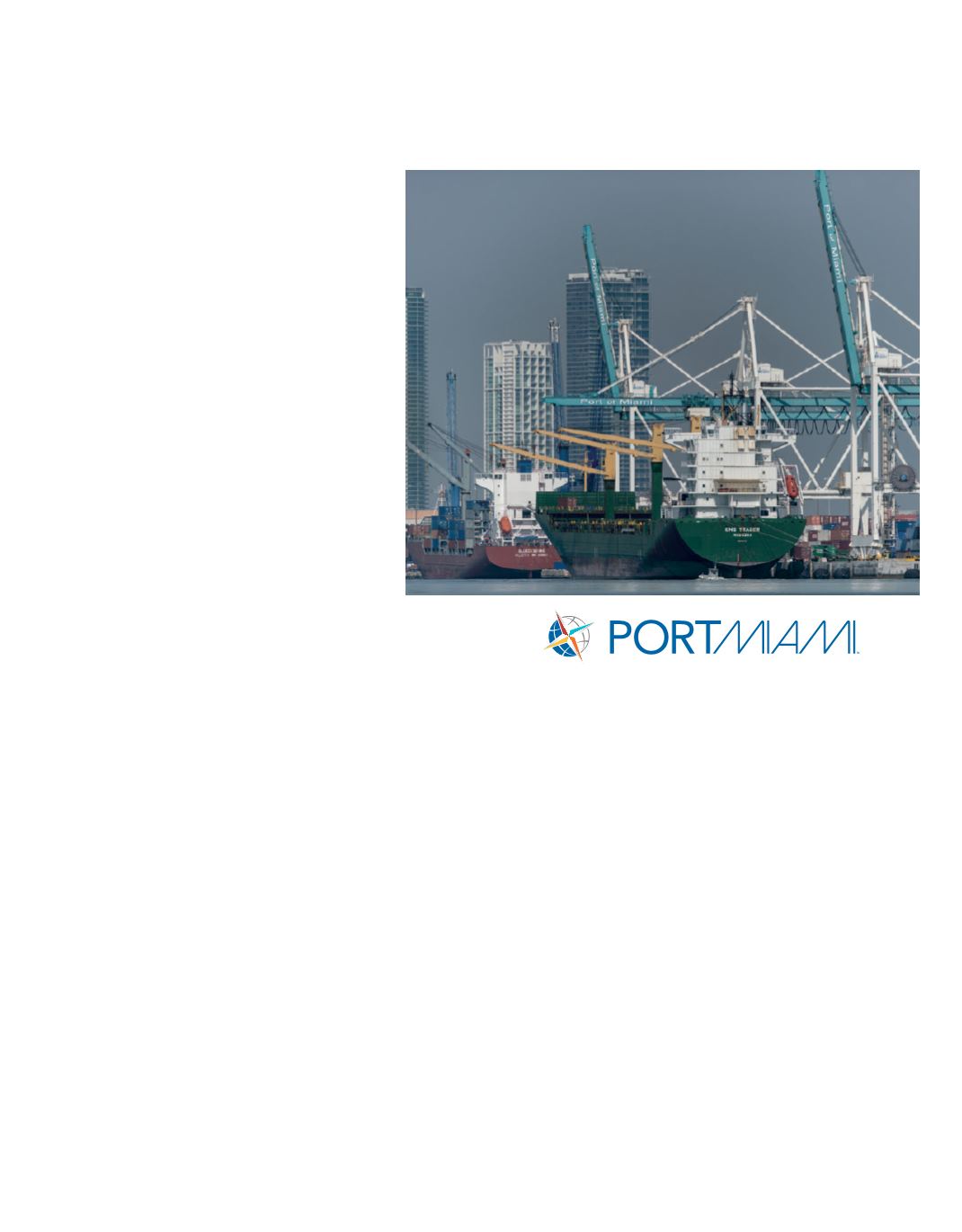 20
2016 Florida Export Guide
Florida.Think.Global
P
ortMiami is poised for new growth
ahead of the expansion of the Panama
Canal in 2016.
Already one of America's busiest
ports, PortMiami can handle container vessels
with more than 40-foot drafts berth, includ-
ing neo-Panamax vessels that can carry up to
14,000 TEUs and transit the new ocean traffic
lane being created in Panama.
"The completion of the Panama Canal ex-
pansion will be a game changer for Miami, as
there is no other port on the east coast, south
of Virginia, capable of handling neo-Panamax
vessels," says Juan M. Kuryla, director of the
port. "What's more, cargo shipped via Miami
can reach 70 percent of the U.S. population
within four days."
Recognized as a global gateway to and from
the United States, PortMiami contributes
more than $27 billion annually to Miami-
Dade County, and generates 207,000 direct,
indirect, and induced jobs.
Containerized cargo volumes are expected to
increase in 2016. PortMiami officials attribute the growth to
more than $1 billion of capital infrastructure projects recently
completed at the port.
"Miami now offers shippers and ocean carriers the deepest
channel in the Southeast U.S.," says Kuryla. "With a channel
over 50 feet deep, PortMiami is the only major U.S. logistics
hub south of Virginia with the ability to handle fully laden
post-Panamax vessels, the biggest containerships capable of
transiting the expanded Panama Canal."
Boasting 13 container cranes, including six super-post-
Panamax derricks, PortMiami efficiently moves containers on
and off its fortified docks from the largest of ships, while a new
tunnel and on-dock rail facilities swiftly whisk cargo through-
out the southeastern U.S.The fast access tunnel connects the
port directly to the U.S. interstate highway system; and the
Florida East Coast Railway provides on-dock intermodal rail
service, facilitating rapid turnaround time for shipments.
In addition to lift-on/lift-off and roll-on/roll-off container
operations, PortMiami handles refrigerated cargo, break-bulk,
vehicles, and heavy equipment project cargo.
While the Latin American-Caribbean region continues
to account for more than half of PortMiami's total cargo
business, Asian trade is steadily rising, with multiple weekly
services between Asia and PortMiami via three of the world's
largest ocean carrier alliances:
• The 2M Alliance of Maersk Line and Mediterranean
Shipping Co.
• The OceanThree or O3 Alliance of CMA CGM, China
Shipping Container Lines and United Arab Shipping Co.
• The G6 Alliance, bringing together American President
Lines (APL), Hapag- Lloyd, Hyundai Merchant Marine
(HMM), Mitsui O.S.K. Lines (MOL), Nippon Yusen
Kaisha (NYK Line) and Orient Overseas Container
Line (OOCL).
PortMiami also is working to grow trade opportunities
with emerging markets such as India, South Africa, and
South Korea.
In an industry that is largely dependent on swift and reliable
service, PortMiami has a proven track record of deploying the
best available technology for the maritime community. "Our
top priority is our customer," says Kuryla. "PortMiami is com-
mitted to facilitating trade, commerce and tourism."
PortMiami: Ready for Post-Panamax Vessels
"The completion of the Panama Canal
expansion will be a game changer for
Miami, as there is no other port on the
east coast, south of Virginia, capable of
handling neo-Panamax vessels."
—JuanM. Kuryla, director of PortMiami.