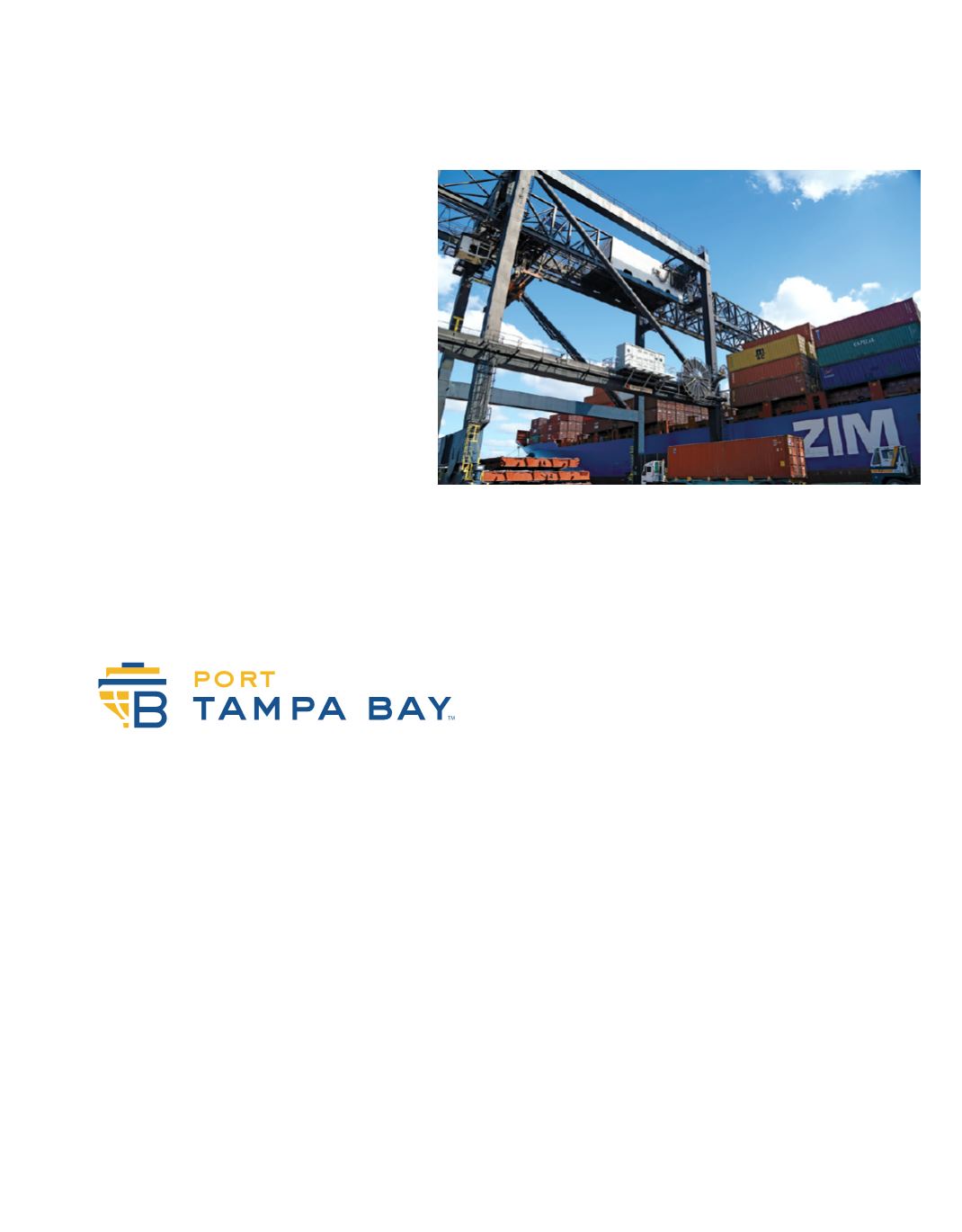 16
Florida.Think.Global
2016 Florida Export Guide
P
ort Tampa Bay is Florida's largest port,
handling more than 37 million tons of
cargo per year. It is also the state's biggest
port in terms of physical size, encompass-
ing more than 5,000 acres — making it one of the
largest ports in the country.
In fact, Port Tampa Bay has the capacity to
manage a diverse range of cargo. It is the most
diversified port in Florida, handling all major cargo
categories, as well as passengers and shipbuilding.
Port Tampa Bay also is Florida's largest steel
handling port with a cluster of related activities
involving manufacturing, fabrication, processing and
distribution — with a focus on exports.
"In addition to being one of the world's premier
steel and fertilizer export ports,"Tampa is home
to several globally successful exporters," says Wade
Elliott, the port's vice president of marketing and
business development. "Among the port's leading exporters
are Amalie Oil, a manufacturer of specialty engine oils export-
ing to over 100 countries, and Tampa Tank/Florida Structural
Steel, a manufacturer of bridges, petroleum storage tanks and
specialized steel structures with a focus on Latin American
exports, as well as domestic markets."
Port Tampa Bay serves a region with more than 8 million
people.Moreover, the Interstate 4 corridor is home to the larg-
est concentration of distribution centers in Florida. Companies
can leverage the port's central location in the state to minimize
both transit time and delivery cost for serving the entire state.
In addition to being the closest full-service U.S. port to the
Panama Canal, Port Tampa Bay is also well-positioned for
emerging opportunities in trade with Cuba.
Port Tampa Bay is a deepwater port with large tracts of
property available for manufacturing and industrial develop-
ment.The port offers excellent highway and rail access, and
competitive energy costs.
Port Tampa Bay plans to invest more than $400 million
over the next five years to improve its infrastructure, including
new docks, terminals and navigational improvements.
"In April 2016, we dramatically ramped up our capability to
attract new container services, with the addition of two new
post-Panamax container gantry cranes," says Elliott. "Together
with partner Ports America, the largest stevedoring firm in the
U.S., Port Tampa Bay has a phased build-out plan to quadruple
the size of its container terminal to more than 160 acres."
Port Tampa Bay also is planning to build a multi-phased
refrigerated warehouse complex and food campus targeting
imports and exports of chilled and frozen agricultural com-
modities and protein products. Future expansion will include
a new express rail link between the port and the midwestern
United States.
"Port Tampa Bay's refrigerated expansion plans will enhance
the Port's strategy to attract additional containerized services
and cargo, as well as breakbulk cargo," says Elliott.
To maintain its role as Florida's premier port for handling
steel products, Port Tampa Bay designated a 270-acre site in
Southern Hillsborough County at Port Redwing/South Bay
for further development.The site has direct access to deep-
water berths, the interstate highway system, and the CSX Rail
mainline connection.
Together with CSX Rail, Port Tampa Bay is collaborating
to attract additional dry bulk terminals and commodities.
Already, Gulf Coast Bulk Equipment opened a new termi-
nal in 2015 to handle prilled sulfur, a key input to the fertil-
izer manufacturing process and the port's leading export
commodity.
In late 2012, Port Tampa Bay, CSX and Kinder Morgan
inaugurated the Tampa Gateway Terminal, Florida's first
on-dock unit train terminal receiving ethanol to serve the
local/regional market. In 2014, the port completed phase
one of its marine petroleum terminal expansion, adding new
deepwater berths and a new pipe delivery system to handle
petroleum and other energy products.
Together with AMPORTS, Port Tampa Bay also has devel-
oped a new dedicated terminal to accommodate the projected
growth of automobile imports and exports resulting from
the expansion of plant capacity underway in Mexico and the
southeastern United States.
Port Tampa Bay: A Catalyst for Florida Trade